Partner - Magomed Saaduev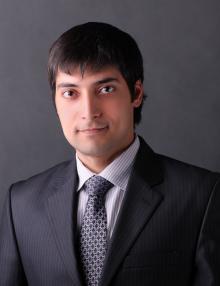 Magomed Saaduev
Partner
Languages
Russian, English

magomed_saaduev.vcf
Magomed Saaduev is a Partner and Head of Corporate Issues & Capital Market Practice Group of the firm. Magomed has significant experience advising and representing clients on corporate, real estate & construction, recreation, electricity, and environmental law issues. As a civil and antitrust law expert, has contributed to the efforts toward legislative changes.
Portfolio
- more than once conducted legal due diligence on Kyrgyz companies and assets involving the analysis of corporate performance, rights and interests in movable and immovable property, commitments, pending or potential litigation, validity of licenses and permits and other issues of operation of companies in the Kyrgyz Republic;
- advised a major Kyrgyz retail trade company on business structuring, represented it before courts in connection with land disputes;
- consulted one of the biggest Russian energy companies on the legal issues in construction and operation of hydro power plants in the Kyrgyz Republic;
- advised and represented one of the leading international hotel corporation in connection with the tax dispute;
- advised a major gold mining company on environmental law issues in connection with its activities in the Kyrgyz Republic and restructuring;
- provided local expertise on judicial decisions and court system of the Kyrgyz Republic to a major international financial organization.
Professional Background
Kalikova & Associates Law Firm (since 2009);
Lawyer, SK Development (2006-2009);
Head of Legal Department, ProjectStroyService LLC (2005-2006);
Instructor of Civil Law and Procedure, Kyrgyz Russian Slavic University (2004-2005);
Lawyer, Confidence Law Agency LLC (2003-2005).
Education
Diploma of Higher Education with Distinction, Specialist in Jurisprudence, Law Faculty, Kyrgyz Russian Slavic University (2004).
Professional Activities and Affiliations
Member of the Union of Advocates of the Kyrgyz Republic; Licensed to practice in all courts of the Kyrgyz Republic.
Speeches and Presentations, Publications
Global PPP Guide 2016, chapter on Kyrgyzstan/ 2016;
Global Renewable Energy Guide, chapter on Kyrgyzstan/ Ankara, 2010-2016;
Global Renewable Energy Guide, chapter on Kyrgyzstan/ Ankara, 2010-2013;
Challenges of Hydropower Development in Kyrgyzstan/ open.kg, tazabek.kg, ibc.kg, greenenergy.kg, Bishkek, 2012;
Nationalization as a Legal Institute and Political Tool in Kyrgyzstan /Russia-Eurasia Executive Guide, open.kg/ Bishkek, 2011, co-authored with Pamira Sainazarova;
The Most Optimal Legal Structure for Doing Business in Kyrgyzstan /The Times of Central Asia, Bishkek, 2011; Kyrgyzstan's Electric Power Sector: Investment Potential /Project Finance Digital Guide, executiveview.com, 2010.