Counsel - Gulnara Kalikova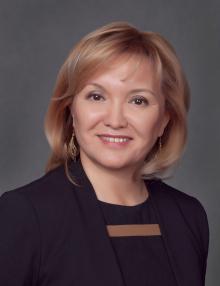 Gulnara Kalikova
Counsel
"being sensitive to client needs, observing timeframes, and always getting a result" and "a first choice" for legal counsel in the Kyrgyz Republic" according to Chambers Global 2015
"Gulnara remains a key figure in the Kyrgyzstan's legal market" according to Chambers Asia Pacific 2017 - "a strong lawyer and a strong leader" committed "to excellence".
Languages
Russian, English

gulnara_kalikova.vcf
Gulnara Kalikova is a counsel of the firm. Gulnara has extensive experience representing foreign investors in the Kyrgyz Republic. She has provided legal support to business projects in the Kyrgyz Republic both at the start-up and implementation stages; participated in drafting and signing investment agreements between foreign companies and the Kyrgyz Government; advised foreign investors on Kyrgyz law issues, including banking, secured transactions, subsoil and land use regulation, antimonopoly legislation, and other areas of law; performed legal due diligence of projects related to financing and acquisition of local companies by foreign investors. Gulnara contributed to the drafting of the medium- and long-term mineral development strategy of the Kyrgyz Republic by making recommendations to the Kyrgyz Government for improving mining law.
Portfolio
- advised a number of exploration and mining companies on legal issues related to their investment and operations in the Kyrgyz Republic; - advised foreign investors on a number of equity investment, acquisition and restructuring transactions as well as in connection with their negotiations with the Government of the Kyrgyz Republic; - advised a number of multilateral agencies in connection with their financing of Kyrgyz banking and financial institutions; - advised telecommunication companies in connection with their investment and operations in the Kyrgyz Republic.
Recognition
Recognized as a leading lawyer by the Legal 500 Europe, Middle East and Africa 2016

Recommended by Chambers Global as a key expert in the areas of mining and exploration and project finance.
Recognized as one of the leading project finance and business law practitioners by Who'sWhoLegal annually since 2003 till 2014
Professional Background
Kalikova & Associates (since 2002);
Head of Representative Office in Bishkek of Chadbourne & Parke LLP (2000-2001);
Attorney/Head of Representative Office in Bishkek of Mayer, Brown & Platt Law Firm (1995-2000);
In-house lawyer, Kumtor Operating Company (1992-1995);
Lecturer in Civil Law, Kyrgyz State National University (1986-1991);
Litigator, Bishkek (1983 – 1986).
Education
LL.M., Harvard University Law School (2002);
Candidate of Legal Sciences, Kazakh State University (1992);
Diploma in Law with Honors, Kyrgyz State University (1983).
Professional Activities and Affiliations
Association of Lawyers of Kyrgyzstan;
American Bar Association;
International Bar Association;
Serves as a member of boards of directors and supervisory boards at a number of public organizations.
Speeches and Presentations, Publications
Gulnara often presents lectures and speeches on the legal environment for investment and public-private partnership in the Kyrgyz Republic to different business and governmental audiences in the Kyrgyz Republic and abroad;
Words into Action: a Guide for Developing Public-Private Partnership in Kyrgyzstan, September 2018, AKIpress (in Russian);
Why Public-Private Partnership doesn't work in Kyrgyzstan? August 2018, AKIperss;
The first PPP projects need foreign experts, June 2015;

Public-Private Partnerships: Legislative Review, April 2013 co-authored with Albina Rakhmidinova;

Public Private Partnerships: The new opportunities for Kyrgyzstan, August 2010 co-authored with Albina Rakhmidinova;

Chapter on Kyrgyzstan, Global Renewable Energy Guide, June 2010, co-authored with Magomed Saaduev;

Aircraft Finance: Regulation, Security and Enforcement, Aircraft Finance online, Sweet & Maxwell Limited, London, 2009, co-authored with Albina Rakhmidinova;

One of the authors of an article on power sector reforms in early transition countries, Law and Transition on-line, EBRD, London, Autumn 2004;

Concessions in Kyrgyzstan, Law and Transition, EBRD, London, Spring 2003;

Investment, Investment Policies and the Future of Kyrgyzstan: Looking for New Approaches in Central Asia and South Caucasus Affairs: 2002, Boris Rumer and Lau Sim Yee (eds.), Tokyo, 2002.